The Amity Affliction & Senses Fail
Sat. Feb 2, 2019 at 6:00pm MST
Get Tickets
Details
Comments
Event Description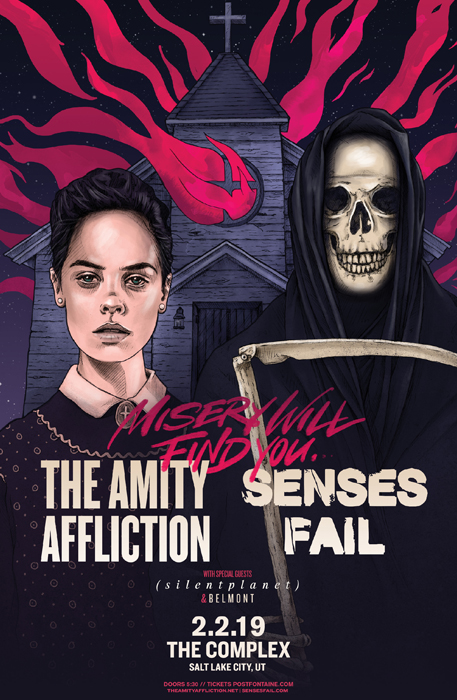 Postfontaine Presents
The Amity Affliction & Senses Fail
MISERY WILL FIND YOU TOUR
Special Guests
Silent Planet
Doors: 6:00 PM
Show: 7:00 PM
The Amity Affliction is an Australian metalcore band from Gympie, Queensland, formed in 2003. The band's current line-up consists of Ahren Stringer (bass, keyboards, clean vocals), Joel Birch (lead vocals), Dan Brown (guitar) and Joe Longobardi (drums). With the addition of Bradley Christian (vocals, assisted on previous tracks) for creativity and vocals. The Amity Affliction has released seven studio albums including Severed Ties (2008), Youngbloods (2010), Chasing Ghosts (2012), Let the Ocean Take Me (2014), This Could Be Heartbreak (2016) and Misery (2018), the latter four debuting at number 1 on the ARIA charts. They are known for their highly personal songs, often dealing with depression, anxiety, substance abuse, and suicide, many lyrics stemming from vocalist Joel Birch's past struggles.

The Amity Affliction released their latest album, Everyone Loves You... Once You Leave Them, on 21 February 2020.
Senses Fail is an American post-hardcore band that formed in Ridgewood, New Jersey in 2002. Formed by vocalist James "Buddy" Nielsen, guitarists Garrett Zablocki and Dave Miller, and bassist James Gill; the band has seen many lineup changes, with Nielsen being the only consistent member. The lineup currently consists of Nielsen, bassist/guitarist Gavin Caswell and drummer Steve Carey, together with bassist Greg Styliades and guitarist Jason Milbank. The band's has released seven studio albums, Let It Enfold You, Still Searching, Life Is Not a Waiting Room, The Fire, Renacer, Pull the Thorns from Your Heart and If There Is Light, It Will Find You. In addition, the band has three EPs, From the Depths of Dreams, Follow Your Bliss and In Your Absence.
Join the Conversation
Follow the event with #ComplexSLC